Submitted by Anonymous on Sun, 06/05/2012 - 16:44
Time is a funny old thing, it passes much quicker then we would like it to.
This is about where I live and the passage of time
This is a Duck, this blog isn't about Ducks, they do sort of feature in it, but don't have a starring role
This is a Duckpond, it's where the Duck above lives, and this pond is central to the blog
I live in Chislehurst which is Kent, it's also in London, but only just.

My village does have several claims to fame, among them is that it is situated above the largest man made caves in Europe.

Famous people have lived here.

Sir Donald Campbell (Ex world land and water speed record holder) lived and is buried here.

Napoleon III was exiled here during one of the many barneys we had with the French.

William Willet, the inventor of Bristish Summertime lived here.

It's literally just inside the M25 and still classed as a village, now just recently I came across some pictures of Chislehurst taken between 1909 and 1968.

What I thought I would do is to grab my camera and try and reproduce the pictures taken showing how things have changed in the last 100 years.

Where possible I have tried to find the exact spot the original photographer stood when he took the pictures, sadly a lot has changed in 100 years and trying to identify an exact spot is hard.

Narrative is under each set of pictures and applies to the pictures above it.

This is the White Horse pub as it was in 1909 and as it is today, the road it is on is called White Horse Hill and as I understand it the area was named because of an early White Horse carved in the chalk on the hill, which of course was long gone before the 1909 pub was ever built.

Look behind you, that's what photographers say, well today 2012 if you do a 180degree from the spot I took the photo, this is the view you get, that'how close to the city my village is.

Look at the view they had in 1911 from the same spot

Farm pond and redhill as they were in 1909 and as it is now today, the exact location was very hard to find because the church has since had a tower added to it and where the pond was is now a school and private property, so I couldn't access it

Summer hill 1909, the ornate structure to the left is actually a water tower used to supply the village with water, I suspect it was originally shot in B&W and has been colourised since then.

Sadly today the Water tower no longer exists, it was knocked down in 1964 because it was causing major traffic issues, I think the bus shows you why.

That said, as the water tower was such an oustanding feature of the area, they didn't completely demolish it, they left one of the foundation stones as a memorial to it.

The Ramblers rest pub as it was c1912 and as it is now today, when the railway came to Chislehurst in 1860, inner city Londoners used to come out here for a day trip and to ramble through the acres and acres of commons and woodlands that surrounded (and still does) the Village, hence the name "Ramblers Rest

Looking down the High st c1914 and a view of it in 2012 from the same spot

The High St again, undated but I would guess in the 30's perhaps, and of course the same spot today.

The Police station c1913, and today in 2012 it's a Nepalese restuarant

High St undated and as it is today in 2012

High St 1909 and as it is today, walking in the road, not advised

High St 1951 and as it is today

Burlington Parade undated and is it is today.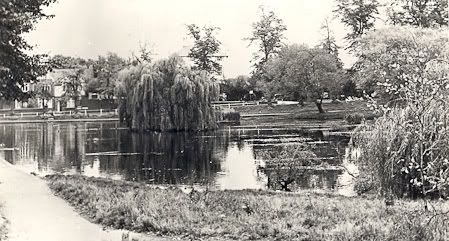 Just to add since the water tower was demolished, people now remember Chislehurst for it's charming Duck ponds, this is Prickend pond c 1960 and how it is today.

The surrounding area is called Prickend, the area was originally called "pricking" and the pond isn't a natural one, it was originally a quarry, the gravel extracted from it was used to build local roads.

And finally I will leave you with a few images of my village as it is today.

I hope you enjoyed it.

Apart from the changes demanded by an increase in traffic over the last 100 years, another change that is notocable if you look for it, in the buildings that still exist today, what happened to the chimneys?