Hands on review of the Fuji FinePix HS20EXR
Pros:
Versatilite lens with very long zoom.
Speed ​​Shooting: 8fps full resolution.
Lots of different shooting functions.
Ability to customise the camera settings very easily
Cons:
Auto mode operation does not satisfy demanding users.
Typical ultra-compact zoom image distortion.
One week spent with Fujifilm HS20EXR proved to me that this camera grants amazing possibilities with it's 30x zoom lens and high-speed shooting. Packed with features and options, the HS20 provides a lot of control, but at the same time increases the risk of error by less experienced users. If you are less-than-experienced I recommend reading the manual covering the following:
Getting familiar with the basic automated programs
Selecting light metering method - photometry
The choice of autofocus
Selecting the desired level of sharpening from the camera
The inclusion or exclusion of stabilisation
The inclusion or exclusion of face recognition
Set the type of power supply
For the more advanced, read up on:
Using the single button to set White Balance (the white test card)
Auto Focus area selection
RAW image recording
---
After a short setup, thecamera is ready for action and we can fully appreciate the opportunities 30x zoom 24-720 mm (equivalent to a small image.)
---
You're able to shoot up to 8 shots at 8 fps! Great for people taking action shots
High speed shooting example [seria.gif 576x768 2,16MB]
However, this mode is limited by the time it takes to save to your memory card.
---
The Auto mode functions well. but if you want to use EXR technology developed by Fujifilm (more info here), I recommend you choose an EXR mode:
EXR Auto, detects which of the 3 EXR modes to use based on the current environment
High Resolution (16 Megapixels)(HR). The standard for when conditions are 'optimal' for photography

ISO 100


ISO 200


ISO 400


ISO 800



Wide Dynamic Range up to 1600% (DR). To capture highlights and low lights

ISO 100


ISO 100, 200% Dynamic Range


ISO 100, 400% Dynamic Range


ISO 100, 800% Dynamic Range


ISO 400, 1600% Dynamic range



---
Pro Focus Mode lets you take pictures with blurred backgrounds.
---
The panoramic shooting mode has been improved from the HS10, with full 360 degrees plus a higher resolution.

Panorama 360' [11520 x 1080px]




Panorama 180' [5760 x 1080px]



Panorama 120' [3840 x 1080px]



You can alos do vertical panorama shots [3840 x 1624px]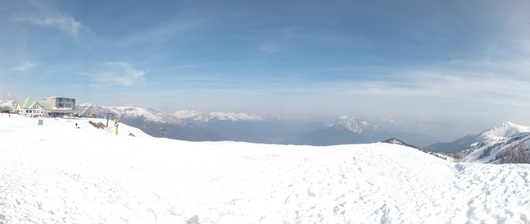 ---
The camera can also be shoot high speed m​ovies from 80 to 320 fps, which played on a computer screen or TV, give a fantastic slow motion. Alternatively you can shoot movies in Full HD. In all shooting modes, you can change the zoom during filming.


---
To sum up my week of fun, (because it is difficult to call it a professional testing!), the HS20EXR has retained the best bits of its predecessor, while improving the color reproduction and speed. Minor changes made in the lens, which now consists of 15 lenses which zooming is smoother and decreases distortion.